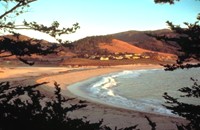 This list of Monterey Mysteries was compiled by Janet A. Rudolph. Some of these books are out of print; if you can't find them at your local mystery bookseller, try contacting one of the stores on this page -- many of them carry used and OOP books.
Want to suggest a book that's not on this list? E-mail Janet at [email protected].
Brooks, Ann Tedlock. Undertow (1943).
Cake, Patrick. The Pro-Am Murders (1979).
Collins, Mary. The Fog Comes (1941).
Dallmann, William. 2 Kill or Not to Kill (2001).
Dawson, Janet. Don't Turn Your Back on the Ocean (1994).
Day, Dianne. The Bohemian Murders (1997).
Duncan, David. The Shade of Time (1946).
Eberhart, Mignon G. Escape the Night (1944).
Elkins, Aaron & Charlotte. A Wicked Slice (1989).
Flinn, Elaine. Dealing In Murder (forthcoming in Nov. 2003).
Frase, H. Michael. The Last Goodbye (1998).
Gilligan, Roy. Pat Riordan series, including Chinese Restaurants Never Serve Breakfast (1986) and Dead Heat from Big Sur (1995).
Greenleaf, Stephen. Strawberry Sunday (1999).
Hansen, Vinnie. One Tough Cookie (2000).
Jacobs, Nancy Baker. Ricochet (forthcoming in Dec. 2003); other books with scenes set in Monterey include Star Struck (2002), See Mommy Run (1992), A Slash of Scarlet (1992) and The Silver Scalpel (1991).
Kennealy, Jerry. Polo in the Rough (1989).
Krieg, Joyce. Murder Off Mike (2003).
Littlefield, James. Fogstalker (2000); Seaglass Eyes (2001); Fatal Stretch (2002).
Mitchell, Ed. Gold Lust (2001) and Gold Raid (2003).
Mosca, Mark. Hole in the Heart (1994).
Muller, Marcia. Games To Keep The Dark Away (1984).
Osborne, Denise. A Deadly Arrangement (2001) and Designed To Kill (2003).
O'Shaughnessy, Perri. Presumption of Death (forthcoming in Aug. 2003).
Pearson, Ridley. Probable Cause (1990).
Pronzini, Bill. Undercurrent (1973); Scattershot (1982).
Smith, Julie. Dead in the Water (1991).
Vance, John Holbrook. The Fox Valley Murders (1966).
Wallace, Marilyn. A Single Stone (1991).
Whitney, Phyllis A. The Flaming Tree (1986).
Wilson, Robin Scott. Death by Degrees (1995).
Young-adult mysteries:
Carroll, Jenny. The Mediator series, including Shadowland (2000) and Darkest Hour (2001).
Attending Authors | Organizing Committee | Register | Visit Monterey
Schedule | Awards | List of Registrants | E-Mail Us | Home